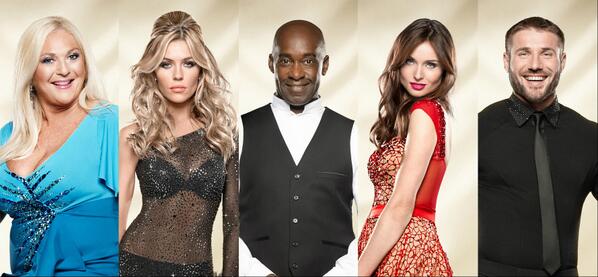 Here were are kids, Strictly season is with us once again! Started your Christmas shopping yet? If not, spend some time perusing the new celebs...
Vanessa Feltz
First of our year's celebs to be confirmed, Vanessa is sure to bring the gusto and enthusiasm we love in a celeb. If her infamous Let's Dance performance as Cher is anything to go by, described by Arlene Philips as "a weapon of dance destruction", I do like how she refuses to take herself too seriously. Everyone's saying she's bound to be partnered with Anton, but I want to see her winding up James Jordan for weeks on end myself.
Tony Jacklin
One of the best British performers in his sport ever, alas, that sport is golf. It's not really unexpected that I don't know who he is, does anyone other than Bruce care? He seemed like a good egg on the One Show, but can't see him getting past week two. Comedy sparkly golf jumpers will not be tolerated, wardrobe department...
Abbey Clancy
Yeah...everyone was a bit surprised by this one. Why would we have someone on SCD who is mainly famous for her husband? *cough*JoWood*cough*JerryHall*cough*NANCY*cough* She'll look good in dresses and will probably be a nervous but half decent dancer. The key to whether she'll have staying power resides in a) a good partner and b) having an endearing personality
Julien Macdonald
Well if there's any male contestant who's going to embrace the sparkle then it's this guy! In fact, will he have time to learn a routine if he's too absorbed in all the outfits? This could go either way, I feel like he could be a terrible dancer or just so eyes and teeth it could work. No doubt though, it will be LOUD.
Rachel Riley
She's on Countdown, so if you're not retired or have a job you might not quite know who she is. I work shifts so I've seen a bit of her with her, quite frankly, huge wardrobe on the show. Could be a bit of a dark horse, being good and maths and wordplay doesn't seem to be much of an indicator of whether you can dance or not...or does it?
Dave Myres
AKA a Hairy Biker, I wonder if they ever regret that nickname? There's going to be dad-dancing, we all know it, he knows it, the BBC knows it.
Susanna Reid
Ah, back to the strangely successful SCD contestant breeding ground of the BBC News room! These people are the only ones who seem able to win the show whilst holding down a day job, it's so odd. Susanna will probably fill the 'terrified but actually quite good' role, maybe even have a j-word. Either way, she's going to have to interview people about SCD on BBC Breakfast, which could be uber-chummy or really quite awkward...
Ashley Taylor Dawson
Oooh, get you with your three names, Mr. Ironically, I stopped watching Hollyoaks because it clashed with It Takes Two, but I remember him as dastardly Darren Osborne. Is he still horrible or did he have a soap personality transplant? He could be quite good on the quiet (quiet because there wasn't a single rumour about him), since he was also in a hilariously naff 90s band called AllStars, so there was probably a bit of choreography going on there. Marking him as my Dark Horse.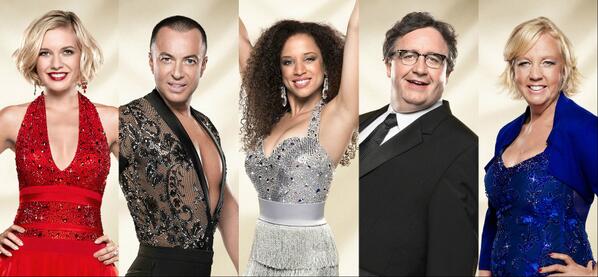 Deborah Meaden
Oh I do like Deborah Meaden, largely because she's on TV but also resembles being an ordinary person. Clever, no-nonsense but with a sense of humour, I doubt she thinks she's going to win SCD but is going to make sure she has a fabulous time along the way. It does however mean I'm likely to get that monstrous 'skinny tan' song from Dragon's Den in my head every week.
Patrick Robinson
He's one of those people who you think 'who is he?' then you Google (not Bing!) him and then think 'oh yeah, him from Casualty'. He's done a lot of theatre too, so he's going to be good moving round the floor I'm sure, let's hope there's some natural rhythm in there too.
Fiona Fullerton
For some reason, she is the person who is annoying me, more than the flack Abbey Clancy is getting. This woman is most famous for being in a Bond film nearly 30 years ago! When her name was first rumoured the papers were acting like this was something I should care about. Sorry, Fiona, I'm sure you're lovely and will work very hard, but...zzzz
Mark Benton
He's an actor I had to look up but then instantly recognised from loads of things as the affable/comedy northerner. Currently on Waterloo Road. Can't imagine him staying long, the end.
Natalie Gumede
Natalie is a massive SCD fan and we're so happy to see her on the show, although we might miss her being able to tweet during the show! Boundless enthusiasm and a musical theatre background make her one to watch, that and some truly amazing hair.
Sophie Ellis-Bextor
You heard it here first, we suggested her in our made-up line-up from 2009 (2009? crikey, we've been doing this a long time). Always liked her stylish and tongue-in-cheek approach to pop, I think Strictly should suit her down to the ground. Although I don't know how many Murder on the Dancefloor jokes I can take from Bruce through the series. Oh yes, and bring back that super-sparkly eye shadow Sophie, bring on the glitz!
Ben Cohen
Well thank goodness for that, a strapping young sportsman! A lot of people's favourite from the male contestants already, there is a good track record with rugby players after all. A colleague of mine also sent me a photo of him with his huge pet cat, which is more than enough reason to like someone. No pressure, Ben, but we're counting on you and I bet the female pros are fighting over you!